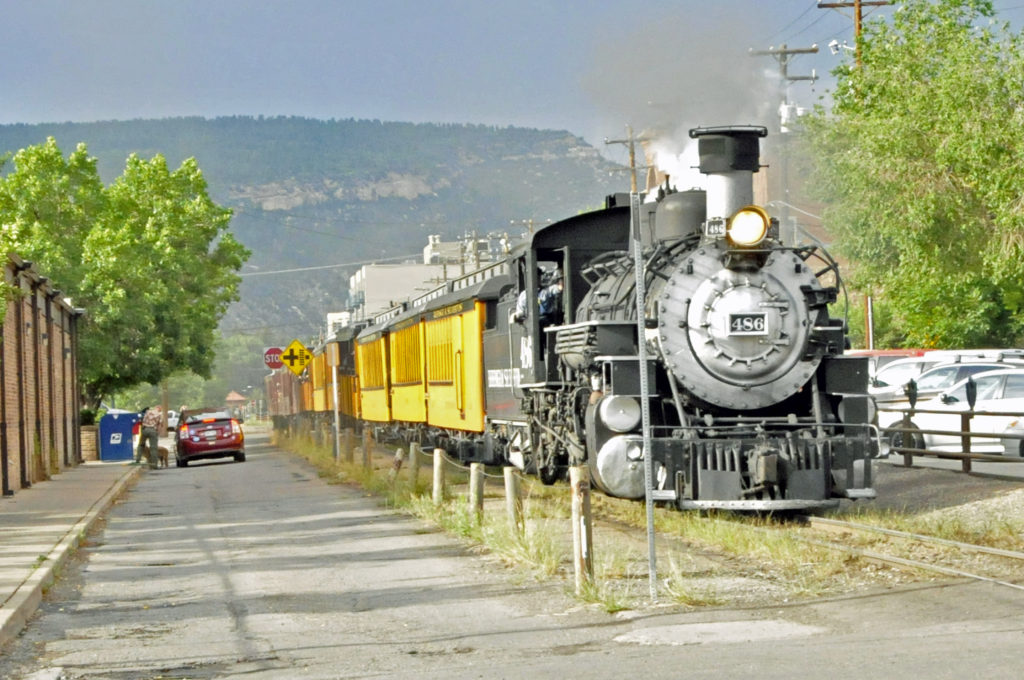 Colorado is home to many historic mining towns. Durango is world famous among those interested in railroading and its history.
In 1870, the Denver & Rio Grande (D&RG) Railway began laying a network of narrow gauge tracks throughout Colorado, the three-foot distance between the rails (compared to the standard 4 ft. 8 ½ in.) facilitating sharp turns in the mountains.  In 1873, miners discovered gold along the Animas River in southwest Colorado, just north of the border with New Mexico.   To support the mining activities, D&RG established a depot along the river at the foot of the San Juan Mountains.  A town quickly grew up around the depot, which was organized in 1880 and named Durango after a city in Mexico.  In late 1881, D&RG began laying track between Durango and Silverton, a silver and gold mining town, completing the 45 miles through the mountains in only nine months.  In 1981, with mining activities in the area largely discontinued, D&RG sold the stretch from Durango to Silverton, which became known as the Durango & Silverton Narrow Gauge (D&SNG) Railroad.
Today, Durango, with a population of about 18,000, is a year-round tourist destination.  The D&SNG Railroad owns and operates meticulously restored and maintained steam-powered locomotives, built in the 1920s or earlier.  Until service was suspended because of the novel coronavirus, D&SNG Railroad operated daily passenger train runs between Durango and Silverton, passing through the spectacular scenery of the San Juan National Forest.  The trains depart from the original depot.  A 12,000-square-foot museum near the depot, open to the public for free, features hundreds of items of railroad and mining history, including steam locomotives.   Also nearby the depot is Durango's Main Avenue, featuring bars and restaurants and two hotels from the city's mining heyday.  Both Main Avenue and the D&SNG Railroad are nationally registered historic sites.