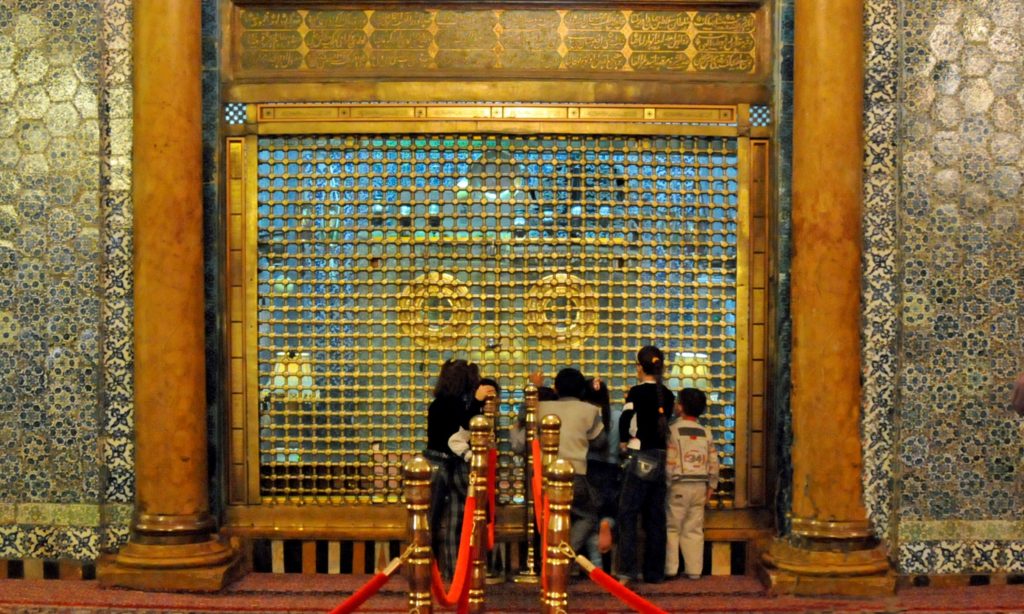 Aleppo, Syria, was once among the Middle East's most pleasant cities, famous for its wide streets and vibrant night life. Its unusual religious diversity was symbolized by an ancient mosque claiming to hold bodily remains important to both Christians and Muslims. Unfortunately, the city and its mosque became casualties of Syria's civil war.
Aleppo, the world's longest continuously inhabited city, was founded in the sixth millennium B.C.  Located along caravan routes between the Mediterranean Sea and Asia, it became one of the largest cities in the region.  After Islamic forces took control in 637 A.D., Aleppo became an important center of learning and culture.  In the eighth century, Aleppo's rulers built a large mosque on the grounds of a cemetery confiscated from the Cathedral of Saint Helena, named for the mother of Roman Emperor Constantine.  A cornerstone from that cathedral still lies near the mosque.  In 1090, craftsmen erected a 150­-foot-tall stone minaret at a corner of the mosque.  What became known as the Great Mosque of Aleppo was extensively rebuilt in the twelfth and thirteenth centuries following damage from fires and wars.   A shrine was added to contain the remains of Zachariah, honored by both Christians and Muslims as the father of John the Baptist.  A wall marker near the shrine explained in English that in 1120 workers found a "marble box, closed and sealed with lead, on the box the following is inscribed: 'This is one of the organs of Zakariyya the Prophet.'"
On April 24, 2013, the minaret, the oldest surviving structure of the mosque, was toppled during artillery battles between Syrian government forces and rebels occupying the mosque.  The shrine containing Zachariah's organ was not touched.  With the Great Mosque of Aleppo in government hands, a multi-million dollar effort to restore the mosque to its pre-war condition has begun.