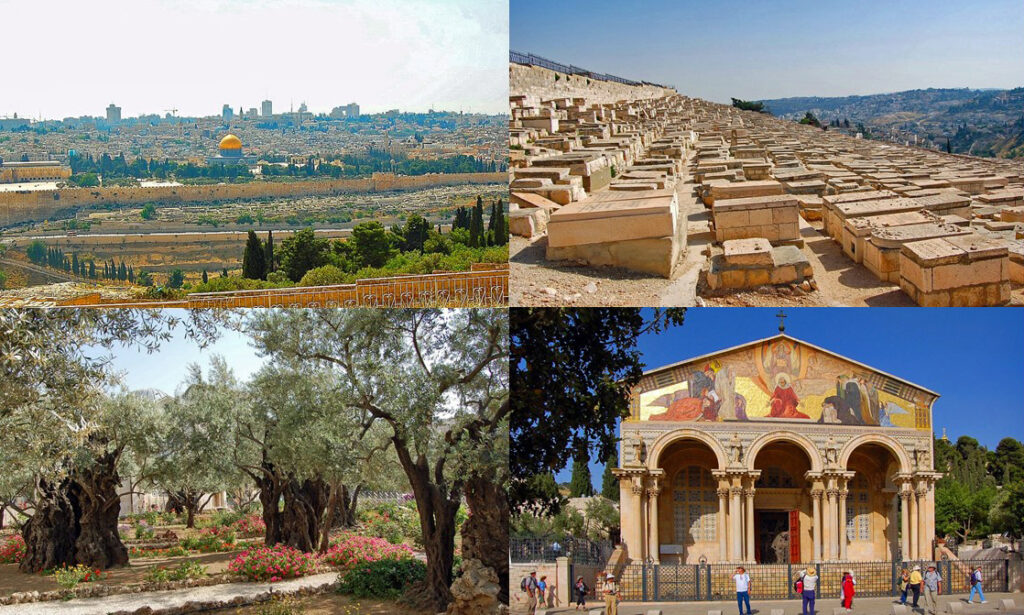 Scenes from the Mount of Olives (Photos by Don Knebel)
In our continuing trip to Israel and the Palestinian Territories, today we visit the Mount of Olives in East Jerusalem, which Israel unilaterally annexed in 1980, following its capture during the Six Day War.
The Mount of Olives, named for trees that once lined it, lies across the Kidron Valley from the Jewish Temple that the Bible says was erected by King Solomon and rebuilt after being destroyed by the Babylonians in 586 B.C. Beginning in 19 B.C., King Herod built a 37-acre platform called the "Temple Mount" around a refurbished Temple. According to Jewish tradition, the Messiah will arrive by walking down the Mount of Olives, cross the Kidron Valley and enter the Temple from the east. To have ringside seats for the Messiah's arrival, more than 150,000 people are buried along the western slope of the Mount of Olives. When Jesus rode down the Mount of Olives on a donkey, his followers waved palm branches, welcoming him as the Messiah. During Jesus' time in Jerusalem, he frequently met with his disciples on the Mount of Olives and was taken prisoner while in Gethsemane, located at the foot of the Mount of Olives.
Today, visitors can follow the path that Jesus took down the Mount of Olives toward the Temple Mount. They can stop at Dominus Flevit, a small church memorializing the site where the Gospel of Luke says Jesus wept contemplating the destruction of the Temple, later destroyed by the Romans in 70 A.D. They can visit Gethsemane, now a park, and the nearby Church of All Nations, also called the Basilica of the Agony. Also on the Mount of Olives are the gold domed Russian Orthodox Church of Mary Magdalene and competing structures commemorating the ascension of Jesus into heaven, which the Book of Acts says occurred on the Mount of Olives.