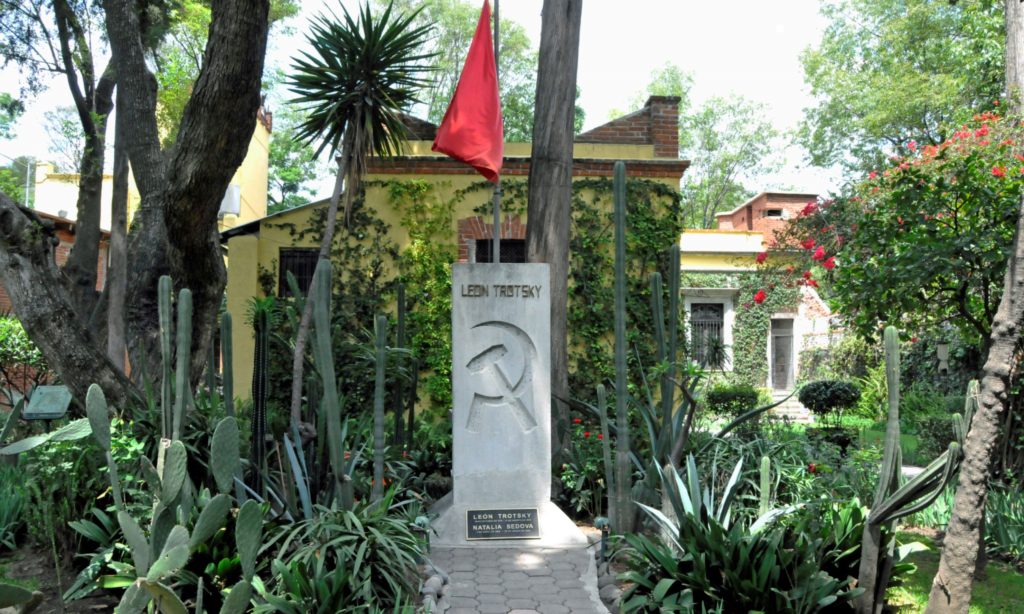 Most Americans do not associate Mexico City with a famous Russian revolutionary, but a museum in Mexico City pays tribute to where Leon Trotsky both lived and died.
Trotsky became a major figure in Russia's Communist Party after the Bolshevik Revolution.  In 1929, Trotsky was forced into exile for his criticisms of Joseph Stalin and spent years seeking refuge, leaving country after country while being pursued by Stalinist agents.  In 1936, Mexican painters Frida Kahlo and her husband Diego Rivera persuaded the Mexican government to grant Trotsky asylum.  In 1937, Trotsky and his wife moved into Casa Azul (Blue House), Kahlo's childhood home in Mexico City's Coyoacán borough.  After an affair between Trotsky and Kahlo that led to the breakup of his relationship with Rivera, Trotsky bought a nearby house, which he occupied in 1939.  Following an unsuccessful machine gun attempt on his life by Russian agents, Trotsky surrounded his house with high walls and guardhouses.  On August 20, 1940, Ramón Mercader, a Spanish Stalinist and the lover of Trotsky's secretary, gained access to Trotsky's study, in which he hit Trotsky in the back of the head with a mountaineer's ice axe.  Trotsky died the next day from his wounds.
On August 20, 1990, the 50th anniversary of Trotsky's assassination, his house and exotic gardens became a museum.  Trotsky's studio reflects its exact condition, including the papers on his desk, on the day he was attacked.  Bullet holes from the earlier attack are visible inside and outside the house.  Trotsky's gardens now contain a stele, adorned with the hammer and sickle and the Soviet flag, marking where the ashes of Trotsky and his wife were buried.  The museum also includes buildings added to the property to display photographs and other items from Trotsky's life.  About 17,000 foreigners visit the Trotsky House Museum each year.