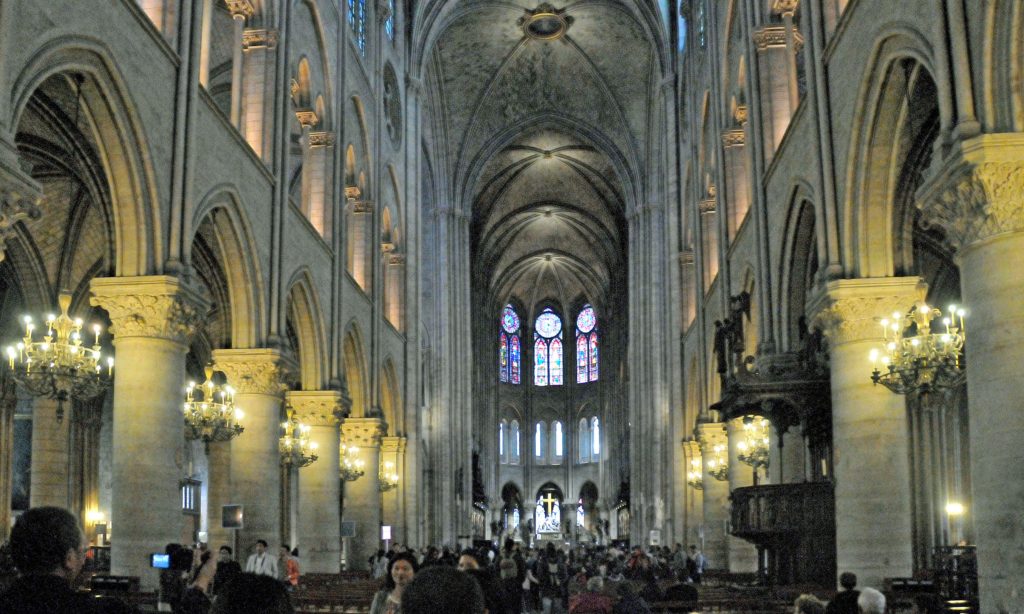 The recent conflagration in the Cathedral of Notre-Dame de Paris (Our Lady of Paris) is the most ruinous event in the history of that beloved symbol of Paris, but is not its first brush with destruction.
Construction of Notre-Dame began in 1163 after the Bishop of Paris ordered that an enormous new church be erected on the Île de la Cité, an island in the Seine. When finally consecrated in 1345, the Gothic church was 427 feet long and 157 feet wide. Two 230-foot-tall towers anchored the west end and a spire extended from the roof between the arms of the transept.
During the sixteenth century, French Protestants destroyed large sections of the church in the name of religious purity and King Louis XIV replaced stained glass windows with clear glass in the name of modernity. In 1786, the spire, weakened by centuries of wind and neglect, was removed. In 1789, French revolutionaries, seeing Notre-Dame as the symbol of the monarchy and its Church allies, destroyed much of the statuary, melted the bronze bells to make cannons, took lead from the roof for bullets and briefly used the cathedral as a warehouse. Parisians called for demolishing the crumbling eyesore until Victor Hugo's 1831 novel, The Hunchback of Notre Dame, led to demands for its restoration. An extensive restoration, undertaken between 1844 and 1869, added an ornate 300-foot-tall spire, made of wood and lead, and an 8000-pipe organ.
In 1935, to protect the cathedral from further harm, a sliver from Notre-Dame's most prized relic, the crown of thorns, was placed inside a copper rooster atop the spire. Nine years later, the church escaped destruction when retreating Nazi troops defied Hitler's order to burn it down. Although the spire did not survive the fire, the protective rooster and much of the cathedral did.