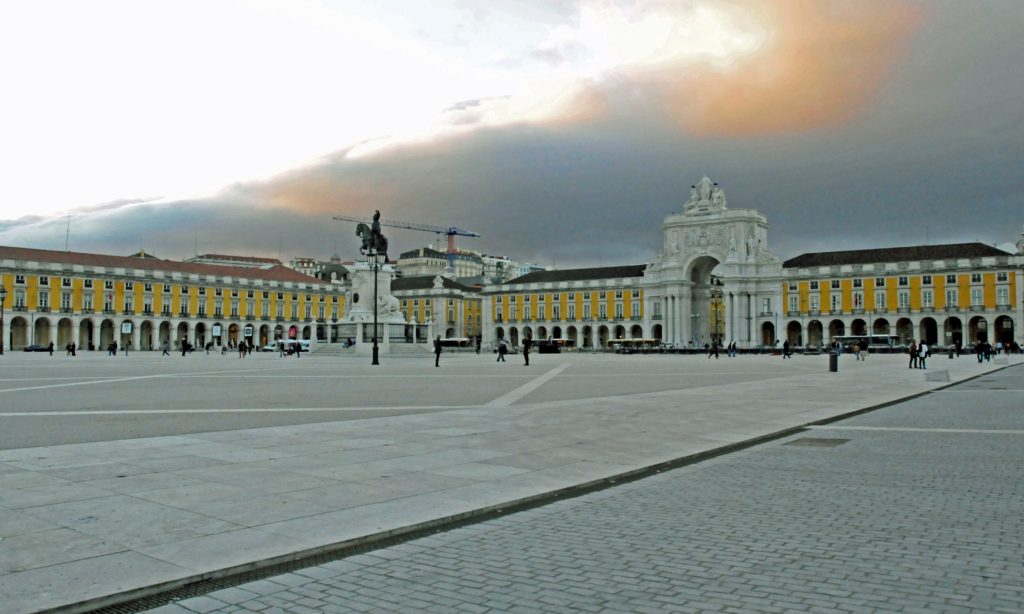 Lisbon's Praça do Comércio (Commerce Square) is one of Europe's most monumental public squares. It owes its existence to a monumental catastrophe.
By 1500, Portuguese seafarers had explored the western coast of Africa and sailed around the Cape of Good Hope to India, bringing enormous prosperity to Portugal. Reflecting this prosperity, King Manuel I built the magnificent Ribeira Palace along the Tagus River, the site of Lisbon's busy port. Dignitaries visiting Lisbon from around the world entered the palace by way of a grand marble staircase rising from the river's edge. On November 1, 1755, during the reign of King José I, a powerful earthquake, followed by fires and a tsunami, destroyed most of Lisbon, including the Ribeira Palace and the 200,000 books in its library.
Almost immediately, King José ordered a massive rebuilding project along the river to demonstrate the resilience of the Portuguese people.  The site of the destroyed palace became the location of a huge public square, with symmetrical building at its southern end, accessible from the river by the same steps that once led to the palace.  In 1775, a statue was dedicated in the square, showing a mounted King José crushing snakes symbolizing the forces that had destroyed the city.  At the center of the building, leading to the river, is the 100-foot-tall Rua Augusta Triumphal Arch.  The arch, which can climbed for a spectacular view of Lisbon, includes the inscription, "The Virtues of the Greatest," and includes statues of Portuguese heroes, including Vasco de Gama, the first European to reach India by sea.  In 1908, Republican assassins killed King Carlos I and his son in the Praça do Comércio, leading to the downfall of the monarchy.  For a time, the square was used as a parking lot, but today it has been restored to its original grandeur.