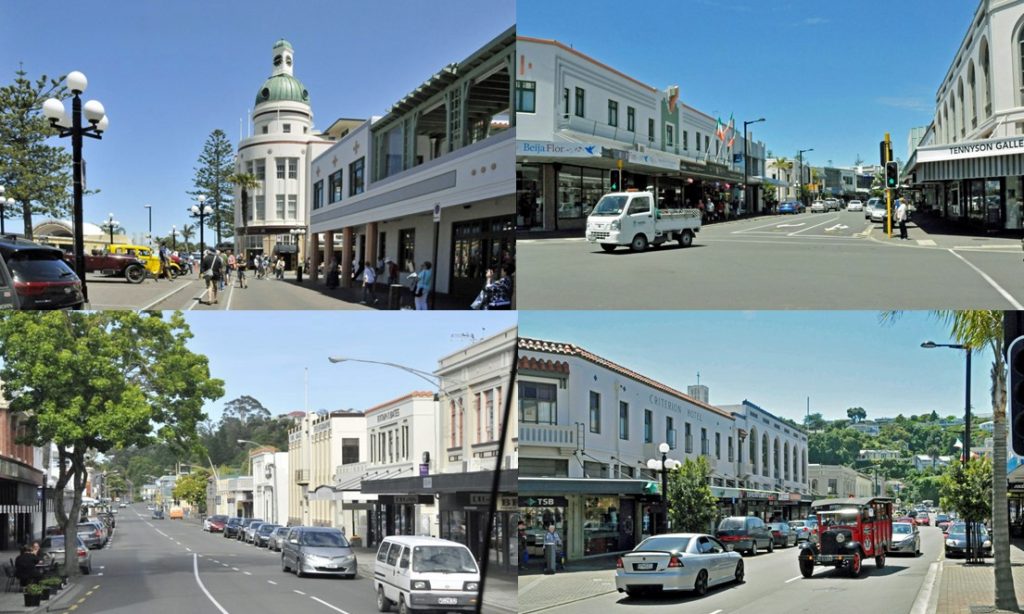 Napier is one of New Zealand's most visited cities. Much of its appeal is the result of the city's response to a horrendous natural disaster.
Napier is located on Hawke's Bay along the east coast of New Zealand's North Island, about 200 miles northeast of Wellington, the national capital. The Māoris, New Zealand's original people, settled the area because of its natural harbor.  By the twentieth century, Napier had become an important port city, exporting a variety of agricultural products from nearby farms and ranches.  On February 3, 1931, a massive earthquake struck the Hawke's Bay area, killing at least 256 people and destroying the commercial center of Napier.  The earthquake also increased Napier's elevation by at least six feet, creating about 15 square miles of new shoreline.  Undaunted, residents of Napier almost immediately began rebuilding their downtown area.   Many of the new buildings incorporated the elegant and then popular architectural style later known as "Art Deco."
Today, Napier, with a population of about 64,000, is still among New Zealand's busiest ports, exporting large quantities of wine, wood and wool. The Marine Parade, a picturesque seaside promenade, passes by the National Aquarium, an assortment of parks, a graceful Art Deco concert shell and the famous bronze statue of Pania of the Reef, a mermaid figure from Māori mythology and now the symbol of the city.  But Napier's popularity with visitors from around the world rests largely on the dozens of meticulously maintained Art Deco buildings in its downtown, considered to rank second (if at all) only to Miami Beach as the best collection of such structures in the world.  Vintage buses and automobiles reinforce the nostalgic feel.  Every February, Napier's Art Deco Festival recreates the atmosphere of the 1920s and 30s, nearly doubling the population of the city for almost a week.