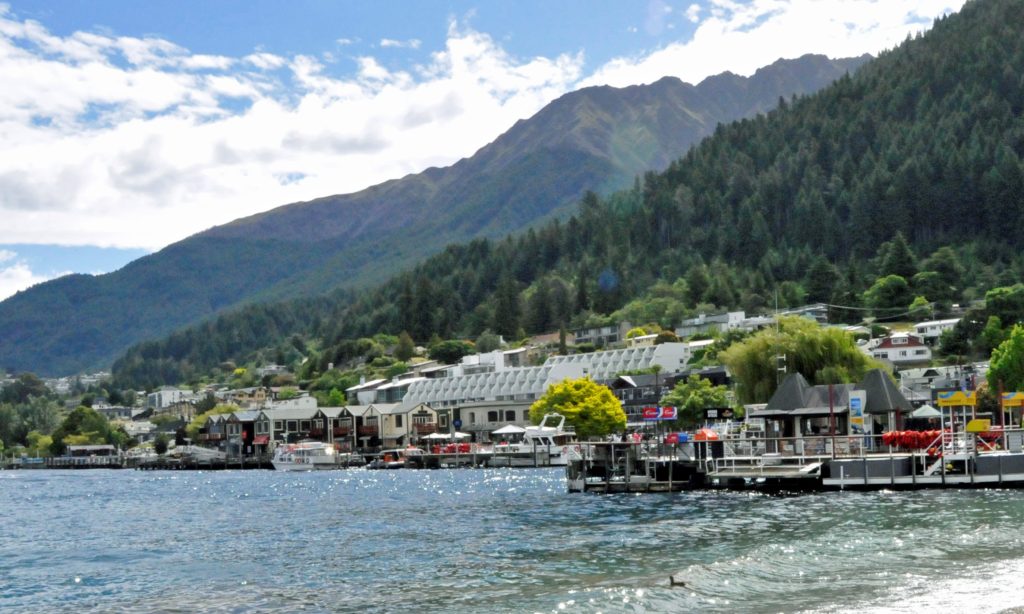 Queenstown, located in the southwest of New Zealand's South Island, is a resort city, famous for its so-called "adventure tourism." Also known as Tāhuna, its Māori name, its popularity began during New Zealand's gold rush.
Queenstown lies along Lake Wakatipu in an area settled by the Māoris before the first Europeans arrived in New Zealand.  In 1860, a Welsh explorer established a high country sheep farm in what is now the center of Queenstown.  Two years later, gold was discovered in the nearby Arrow River and he converted his sheep shed into a hotel.  Visitors attracted to the town because of the gold returned talking about the town's picturesque beauty and it rapidly became a destination for tourists from all over the world.
Today, more than 200 Queenstown operators offer adventuresome activities such as sky diving, bungy jumping and whitewater rafting. In the winter, people come from all over to ski in the surrounding mountains. Arrowtown, a wonderfully preserved mining village featuring a museum recounting the area's history, is just 12 miles away
Two of the most popular things to do in Queenstown involve different modes of transportation. A gondola, said to be the steepest in the southern hemisphere, takes riders to the top of Cemetery Hill, often referred to as Bob's Peak, where an observation deck provides a stunning view of Queenstown, Lake Wakatipu and mountains of the Southern Alps, including ones called The Remarkables. Those so inclined can paraglide back down. The TSS Earnslaw, a twin-screw steamship built in 1912 and restored in 1984, is said to be the only coal-fired vessel still carrying passengers in the southern hemisphere. Riders can take the ship, nicknamed The Lady of the Lake, across Lake Wakatipu to Walter Peak High Country Farm, featuring magnificent flower gardens, elaborate meals and sheep shearing demonstrations.