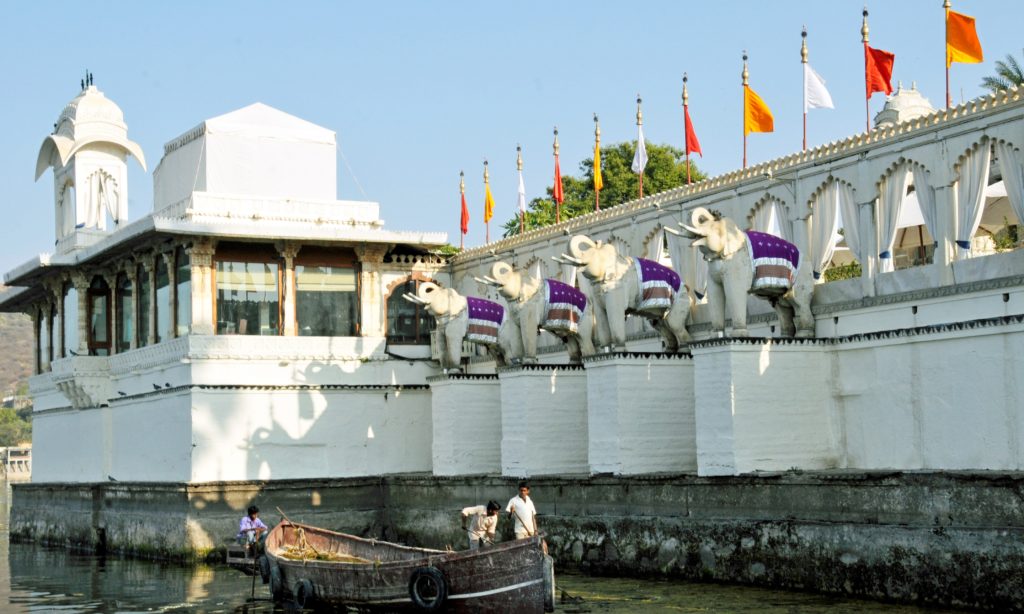 Jag Mandir, an historic palace complex in Udaipur, is one of India's most popular destinations. Locals have renamed it after an American movie.
In 1553, to avoid attacks from Muslim Mughals, Maharana Udai Singh II, a Hindu ruler in northwest India, moved his palace to a site on a ridge above the eastern shore of Lake Pichola in what is now the city of Udaipur.  Today, that palace, added to over the next 400 years, is Udaipur's much-visited City Palace.  In 1620, Maharana Karan Singh, a succeeding ruler of the Mewer Dynasty, began construction of a summer palace on an island near the south side of the lake.  Because the palace complex was completed by his son, Maharana Jagat Singh I, who ruled between 1628 and 1652, it became known as Jag (or Jagat) Mandir.
The word "mandir" signifies a Hindu temple.  Curiously, one of the most imposing structures in Jag Mandir is a domed building, topped by the Islamic crescent, and known as Gul Mahal.  Exactly why a Hindu temple complex should include an Islamic building is not entirely clear.  A popular legend says that that Muslim Prince Khurram, who later became the Mughal Emperor Shah Jahan, sought refuge in Jag Mandir during a fight with his father over succession.  According to the story, Maharana Karan Singh built the Gul Mahal for Prince Khurram and his family, including Khurram's favorite wife Mumtaz.  As the story goes, Prince Khurram was so impressed with Gul Mahal that he later used it as a model in his design of the Taj Mahal, a mausoleum for Mumtaz.
Today, Jag Mandir is accessible by boats leaving from the City Palace.   Eight elephants, four on either side, guard the entrance.  Many locals today call Jaq Mandir "Octopussy's House" because it was featured in "Octopussy," a 1983 James Bond movie.