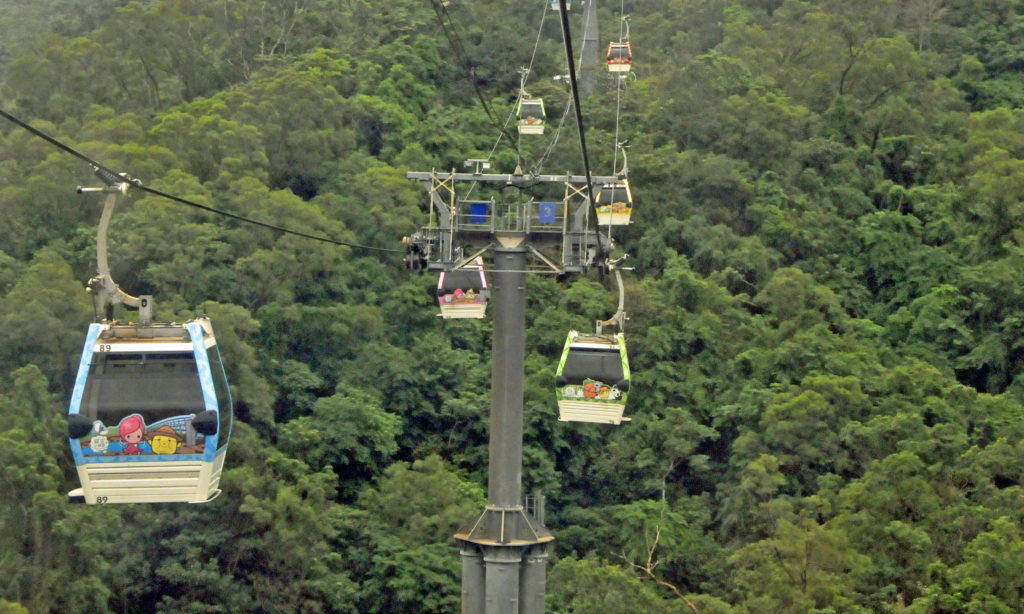 Taipei, Taiwan, is a sophisticated city, with a metropolitan population of more than sevenmillion. Maokong, a relaxing mountain village popular with locals and tourists, is a gondola rideabove.
Taipei sits in a basin, surrounded by mountains. Maokong lies along the slope of a tree-covered mountain at the southern end of the city. For generations, Maokong was the largest tea-growing region in the area, famous for the tieguanyin variety that originated on the mainland. Numerous paths were carved through the trees to bring the tea down to the city. As Taipei grew, Maokong became a favorite destination for people wanting a respite from the city and a picturesque view of the entire Taipei basin. A popular way to get to Maokong was along a path that started at National Chengchi University near the foot of the mountain. In 2007, a 2.7-mile-long gondola lift system was built from near the Taipei Zoo to Maokong. The increased accessibility led to an increase in the number of visitors, which attracted numerous quaint shops and restaurants, many serving and selling the tieguanyin tea still grown in the area.
Today, a cabin of the Maokong Gondola departs every three minutes, with 30 so-called "crystal cars" fitted with glass bottoms intended to create the sensation of flying up and down themountain. Along the way, the gondola stops near the Zhinan Temple, an ornate Taoist temple founded in 1882 to honor Lü Dongbin, a Chinese scholar worshipped as an immortal deity by Taoists. Some unmarried couples avoid this stop and the temple because of a legend that Lü Dongbin, famous for his sexual powers, will seduce the woman and cause the couple to split. The next time you are in Taipei, take a trip to Maokong and (at least if you are married) the Zhinan Temple.