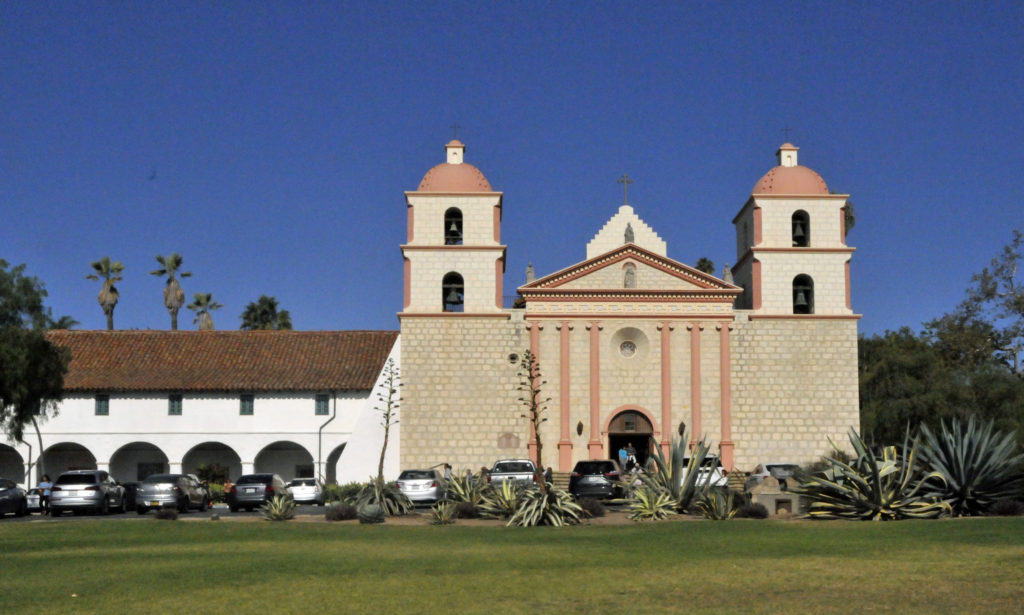 One of the most popular destinations in Santa Barbara, California, is an active church. Its history reflects the influence of Spain in California.
After a Spanish sailing expedition explored the coast of what is now California in 1542, Spain claimed the lands along that coast but did little to exploit them. That changed in 1768, when King Charles III sent Franciscan priests to Spanish territories in the New World to convert the indigenous people to Christianity and make them subjects of the king. In 1769, Junipero Serra, a Franciscan who had been working in Mexico, established a mission in what is now San Diego. During the next 13 years, Serra established eight more missions near the California coast. His tenth California mission was to open in 1782 on a rise overlooking the Pacific Ocean in what is now Santa Barbara to serve the Chumash people in the area. Disagreements over its proposed operation delayed the opening until December 4, 1786, the feast day of Saint Barbara, more than two years after Serra's death.
Initially made of adobe, Mission Santa Barbara was rebuilt in stone in 1812 based on an ancient Roman design.  A second tower was added in 1831, making Mission Santa Barbara the only California mission with twin towers.  In 1842, the mission became the home of the first Bishop of California, allowing the mission to be designated a cathedral.   Because of its commanding location and appealing design, Mission Santa Barbara is often called "The Queen of the Missions."  Mission Santa Barbara continues to hold church services, making it the only one of California's 21 missions that has functioned as a church continuously since its founding.  The mission offers tours of its spacious grounds, which include a museum and a cemetery containing the graves of up to 4000 Chumash and California's first bishop.