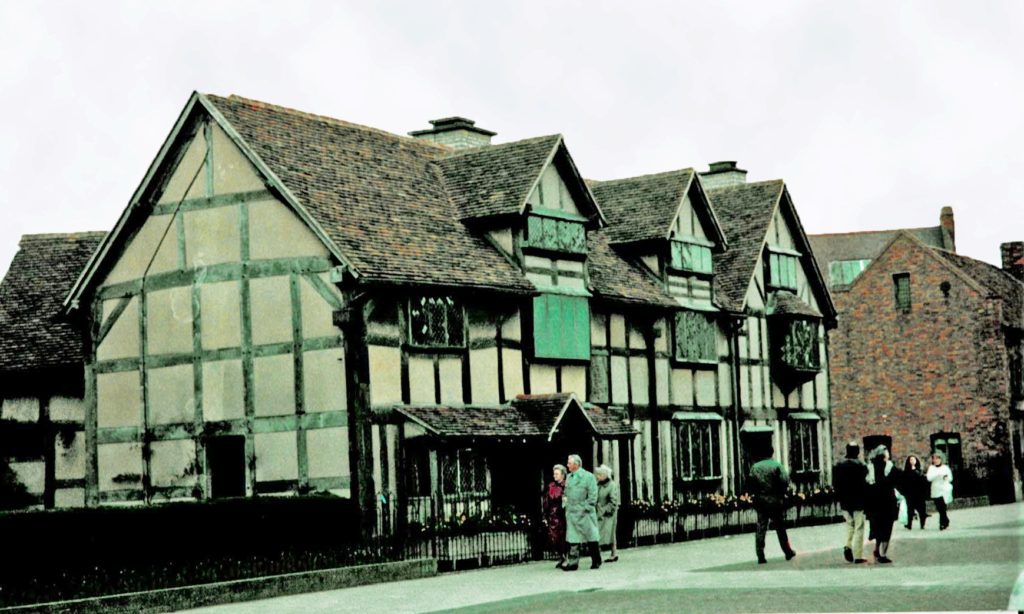 Every year more than 2.5 million people visit Stratford-upon-Avon, about 100 miles northwest of London, to honor William Shakespeare, who was born and died there. While in town, they can experience the brilliance of his works.
Stratford-upon-Avon or simply Stratford was a small village along the Avon River until 1196, when King Richard I granted it both a charter as a town and a charter allowing the new town to hold a weekly market.  The market town soon attracted merchants and artisans, some of whom became wealthy and built large homes.  No later than 1552, when he was fined for leaving rubbish on the street, John Shakespeare began renting a large house on Henley Street, part of which he used as a residence and part of which he used for his successful glove-making business.  William Shakespeare, the third of John's eight children, was born to his wife Mary in late April 1564, the exact day unknown. John purchased the house in 1574 and William lived there until he was 18, when he married Anne Hathaway. William inherited the house from his father and rented it for use as the Maidenhead Inn.  When Shakespeare died in Stratford in 1616 at age 52, the house passed to his daughter and eventually passed outside Shakespeare's family and fell into disrepair.  With the support of Charles Dickens and others, the house was acquired by a public trust in 1847, which restored the house to how it would have looked when Shakespeare lived there, complete with his father's glove-making shop.
Visitors to Stratford-upon-Avon today can tour Shakespeare's birthplace and the adjoining Shakespeare Center. They can visit Holy Trinity Church, where Shakespeare was baptized and buried.  They can then attend a production of the Royal Shakespeare Company, which produces both works of Shakespeare and works of contemporary playwrights.