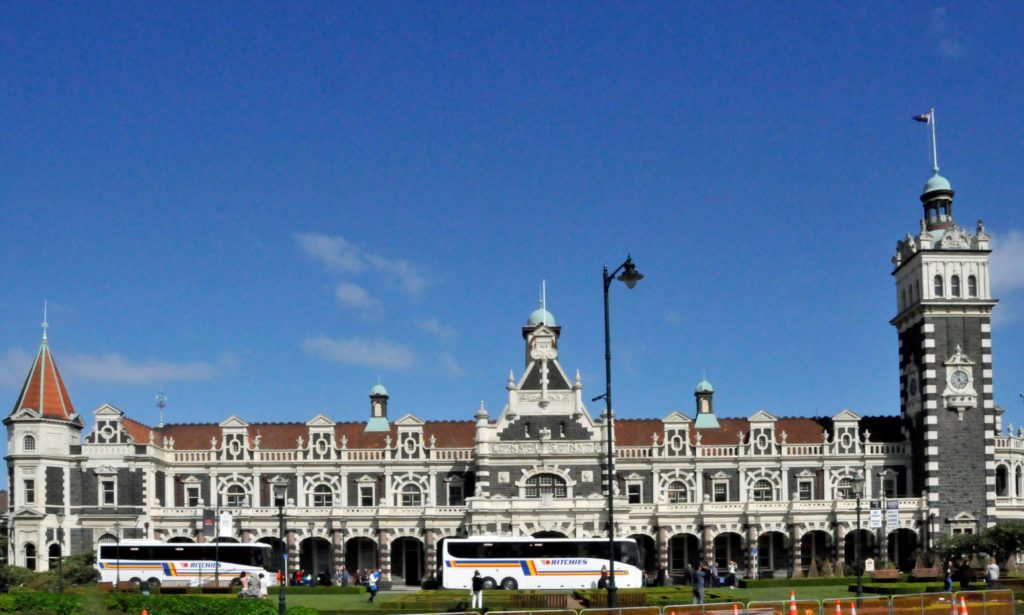 Some people identify the railway station in Dunedin, New Zealand, as one of the world's most beautiful buildings. For others, that is a matter of taste.
On May 25, 1861, Gabriel Reed, a peripatetic prospector from Australia, discovered gold along the Tuapeka River near Otago on New Zealand's South Island. The area became known as Gabriel's Gulley and miners from around the world began coming to the Otago area, seeking their fortunes. Dunedin, founded in 1848 by settlers who had broken away from the Church of Scotland, was the nearest town. By the middle of the 1860s, Dunedin had become the largest urban area in New Zealand and was by far the most prosperous. Residents used their gold wealth to try to recreate an image of Edinburgh, for which Dunedin was named. Railroads soon began linking Dunedin with the remainder of New Zealand.
By the twentieth century, the growth of Dunedin had slowed and it was no longer New Zealand's largest city.  But the existing railroad station was still the busiest in the country and was no longer adequate.  In 1904, the government began building a grand new station to complement the romantic architecture that had become associated with Dunedin.  Built in the Renaissance Revival style, the exterior of the station was constructed from light and dark stones, with pink granite columns, giving it a gingerbread house look.  About 750,000 Minton tiles imported from England covered the floor of the booking hall.  A frieze of Royal Doulton porcelain, also imported from England, surrounded the balcony.  Terracotta shingles imported from France covered the roof.  Despite the expensive materials, when the station opened in 1906, its cost was lower than anticipated.
Guides today claim the Dunedin Railway station is the second most photographed building in the southern hemisphere, after the Sydney Opera House.  Perhaps.