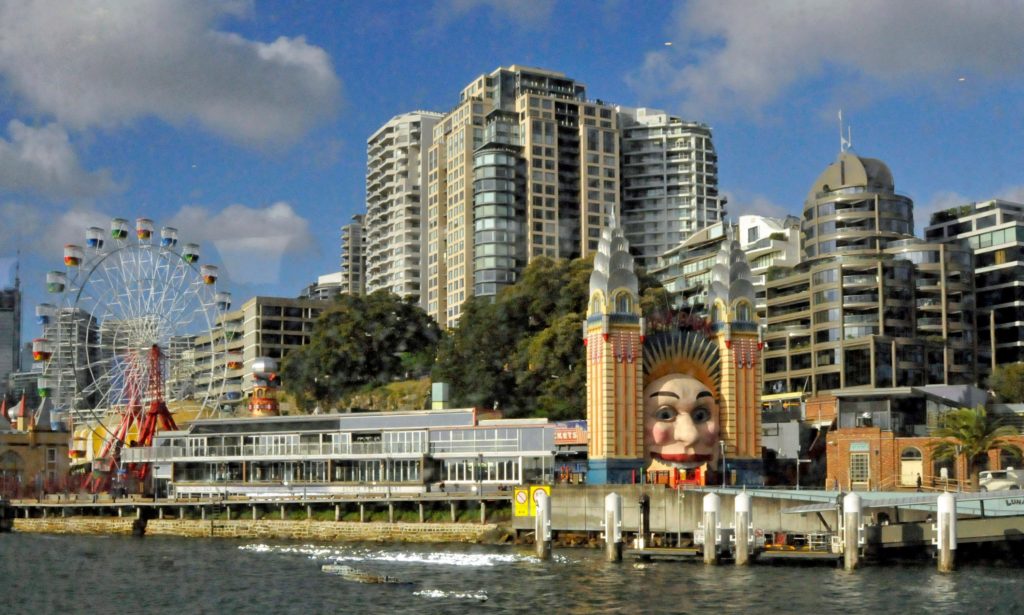 Luna Park in Sydney, Australia, is among the world's most iconic amusement parks. It is also among the world's most haunted.
In 1903, Luna Park, a spectacular new amusement park, opened on New York's Coney Island.  The concept soon spread to Australia, with Luna Park Melbourne opening in 1912.  In 1935, another Luna Park opened on Milsons Point along the north shore of Sydney Harbour.  Luna Park Milsons Point was an immediate success, with people standing in long lines to ride the Big Dipper, a wooden roller coaster.  Visitors entered through a huge face, which became the symbol of the park.  Luna Park was particularly popular with American sailors on shore leave during World War II, leading to a temporary reputation for prostitution and brawling.
In 1972, at the height of its popularity, Luna Park began staying open year round, eliminating the winter downtime previously employed to maintain the rides.  The decision proved disastrous.  In April 1979, 13 people were injured when one Big Dipper car smashed into another stalled by a malfunction.  In June 1979, the park closed after a fire on the Ghost Train killed six children and one adult.  The park closed again in 1988 when inspectors found that several of the rides were unsafe.  In 1994, noise complaints from nearby residents led to another closure.  When Luna Park reopened in 1995 with greatly restricted hours, financial difficulties soon led to yet another closure.  The park reopened in 2004, owned by the Luna Park Reserve Trust, a government agency. With newer and safer rides, Luna Park is again among Sydney's most popular destinations.  The 30-foot-wide smiling face at the entrance is the park's eighth.  Constructed in 1994 from polyurethane and modeled on an image of Old King Cole, it is registered as a heritage site by the government of New South Wales.