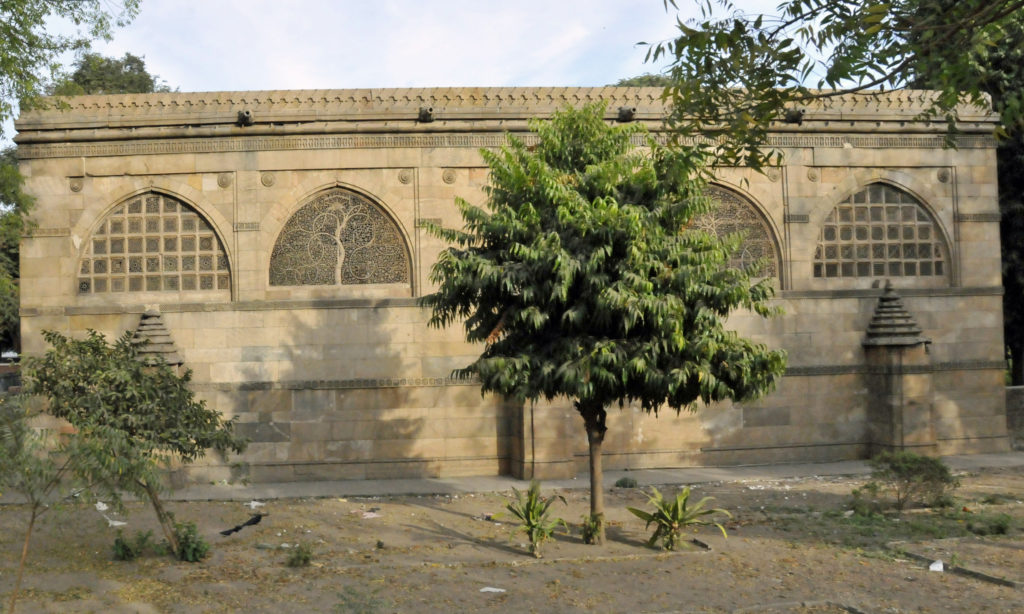 A sixteenth century mosque in Ahmedabad, the fifth largest city in India and one of the world's growing cities, provides a symbol of the city. It is also provides a symbol of the little-known contribution of African slaves to Indian architecture.
Ahmedabad is located in Gujarat, a state along the northwest coast of India.  In 1411, Ahmad Shah I, the Sultan of Gujarat and a member of the Muzaffarid Dynasty, erected the Bhadra Fort on the east bank of the Sabarmati River and founded the surrounding town, which he named "Ahmedabad," as his new capital.  By this time, Gujarat was home to slaves known as "Hapshi," who had been captured near the Horn of Africa.  Rulers of the Muzaffarid Dynasty used the Hapshi as bodyguards and some rose to high positions in the military and the government.  By 1537, as many as 5000 Hapshis were working for the Sultan of Gujarat.  When Muzzafar Shah III became Sultan in 1561, he gave a Hapshi named Sidī Saiyyed an important role in his administration.  Sidī Saiyyed designed and built a mosque near the Bhadra Fort in the center of Ahmedabad.  Workers completed the mosque in 1573, the same year that Mughal Emperor Akbar captured Gujarat from the Muzaffarids.
Today, only the sandstone prayer hall, the open front of which faces the courtyard, remains of what is known as the "Sidī Saiyyed Mosque."  The prayer hall is renowned for ten arched sandstone screens (jalis) on the rear and side walls.  The best known of the intricately carved screens reflects the Tree of Life, which Muslim believe grows in Paradise.  The prayer hall is the best-known example of what has become known as the "Gujarati style" of design.  Residents of Ahmedabad often use the Tree of Life from the Sidī Saiyyed Mosque to represent their city.