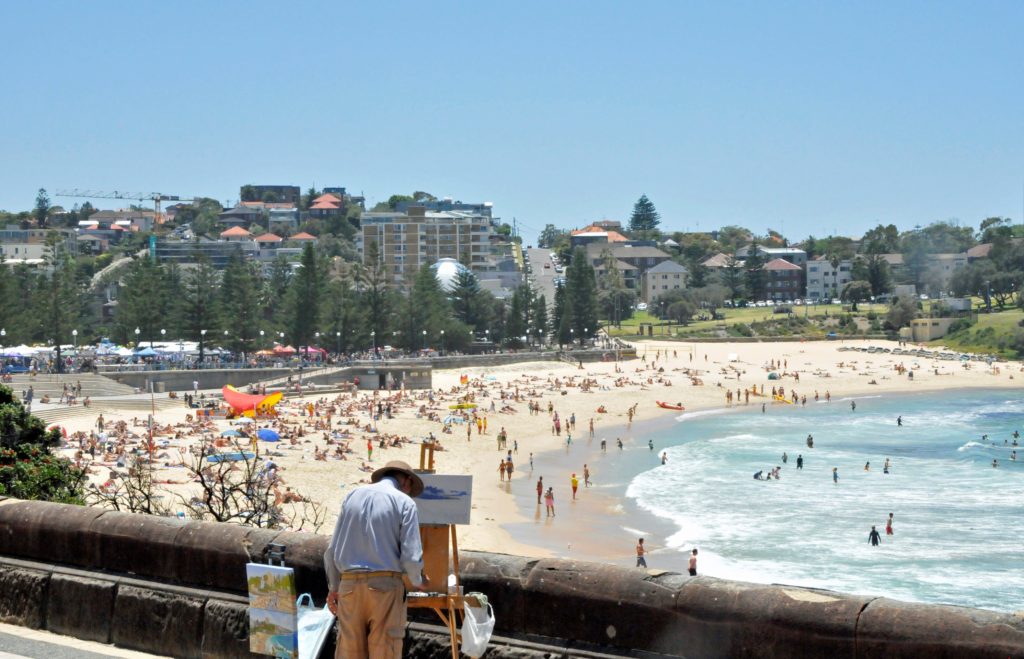 Bondi Beach in Sydney, Australia, is one of the world's most popular beaches. It is particularly popular with visitors from the Northern Hemisphere, who can celebrate Christmas at the beach.
Bondi Beach is located four miles east of the CBD, Sydney's Central Business District. The word "Bondi" (pronounced bondie) is derived from an Aboriginal word having the same meaning as "surf" in English. In the mid-nineteenth century, the property that included the beach was part of the private "Bondi Estate." For a time, the owners allowed the public to access the beach, which was famous for the size of its waves. When the owners threatened to block access to the beach, the Municipal Council made it public in 1882. By the twentieth century, up to 60,000 people a day were coming to the beach. On February 6, 1938, known as "Black Sunday," five beach goers were killed and more than 250 injured when a series of large waves pulled people into the water.
Bondi Beach has been the site of efforts to control decency in swimwear for both men and women. In 1935, the local government passed an ordinance regulating the amount of skin that could be shown, leading to American actress Jean Parker being escorted off Bondi Beach in 1951 because her bikini was too revealing. The ordinance was repealed in 1961 and topless bathing became popular. On September 26, 2007, 1010 women wearing tiny bikinis assembled on Bondi Beach. The resulting photograph, published in Cosmopolitan in 2008, established the Guinness record for the largest swimsuit photoshoot.
Today, Bondi Beach draws about 2.5 million visitors a year, many of whom take advantage of the fashionable cafes along the Campbell Parade that adjoins the beach.  Visitors to  Bondi Beach can also watch rugby matches played on the beach by the Sydney Roosters.