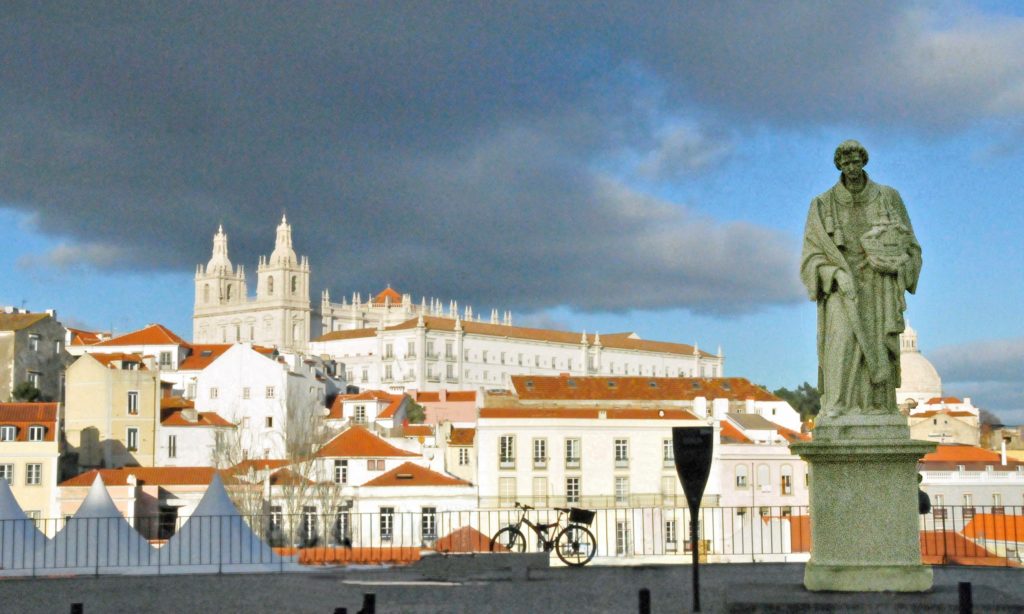 Visitors to Lisbon find plenty of evidence that Saint Vincent of Saragossa and ravens are important to the city, but even locals can be hard pressed to explain why.
Saint Vincent, born near Saragossa in northeast Spain, was a Christian deacon executed under Roman Emperor Diocletian in 304 A.D.  What happened next is the stuff of numerous legends, usually involving ravens.  According to one story, Vincent's body washed up on the southwest coast of the Iberian Peninsula and was buried in a grave guarded by ravens.  In 1139, Afonso Henriques became the first king of Portugal, newly independent of Spanish León, and soon recaptured Lisbon from the Muslims.  Christian relics were the rage among European kings and Afonso wanted an important relic to commemorate his victory, so he sent agents to southern Portugal to find the remains of Vincent said to be buried there.  They found what they concluded were the saint's bones and took them to Lisbon by ship, reportedly accompanied by ravens.  A grateful Afonso made Vincent Lisbon's patron saint, built the Monastery of São Vicente de Fora (Saint Vincent Outside the Walls) on a hill overlooking the city, and incorporated a ship with two ravens bringing Vincent's bones to Lisbon into the city's coat of arms.  He deposited the bones in the Cathedral of Lisbon being built over a destroyed mosque. 
Today, many Lisbon streetlamps feature metal representations of the ship with two ravens that became the symbol of the city.  In 1970, a large statue of Saint Vincent holding the iconic ship was dedicated on Miradouro Portas do Sol, a Lisbon overlook providing a magnificent view of the Monastery of St. Vincent, reconstructed beginning in the sixteenth century to  include twin towers.  The bones claimed to be those of Saint Vincent remain in a silver coffin in Lisbon's Cathedral.