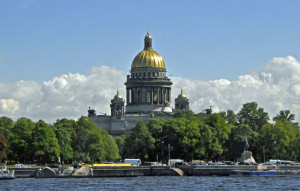 The golden dome of St. Isaac's Cathedral dominates the skyline of St. Petersburg, Russia. The massive church, said to be the third largest domed cathedral in the world, was built at an enormous cost in both treasure and human life.
St. Petersburg's largest cathedral, located near the Neva River, honors St. Isaac of Dalmatia, the patron saint of Peter the Great, born on the saint's feast day. Designed to accommodate up to 14,000 standing Orthodox worshipers, the church was built from 1818 to 1858 on the order of Tsar Alexander I, who considered its predecessor unworthy of a great city. The building, mixing classical Greek and Russian elements, was designed by Auguste de Montferrand, a Parisian architect who died just after the project was completed.
The church takes the shape of a Greek cross, with four bronze pediments resting on a total of 48 56-foot-tall columns, each carved from a single piece of red granite. Statues of Jesus' disciples stand on the corners and apex of each pediment. A 72-foot-diameter central dome, covered with 200 pounds of pure gold, is surrounded by four smaller domes. The walls of the one-acre interior of St. Isaac's are adorned with murals and mosaics above columns of semi-precious stones. A magnificent stained glass window, rare in Orthodox churches, portrays the resurrected Jesus. Construction of St. Isaacs cost about 25 million rubles, worth perhaps $150 million today. The cost also included 60 workers killed by the mercury used in gilding the domes.
In 1931, the Soviet government replaced the dove of the Holy Spirit descending from the heavenly scenes beneath St. Isaac's central dome with a Foucault pendulum and renamed the building the "Museum of Religion and Atheism." With the collapse of the Soviet Union, the dove has returned and church services have resumed on special occasions.